South Pacific Oil Limited 2015 Divident Payout - Press Release

The South Pacific Oil have paid out of its 2015 profit a dividend of SBD 53,990,260 to the Solomon Islands National Provident Fund(SINPF). 2015 was the most profitable year after 9 years of its commercial operation. Only two years after the April floods in 2014 that affected our economy and SPO business, SPO was able to strategically review its business to achieve this excellent result. 
In total SPO has paid a total dividends of SBD 335.2 million to its shareholders. From this – SBD 293.1 million has been paid to SINPF while a total of SBD 42.1 million was paid to minority shareholder from 2006 till 2013.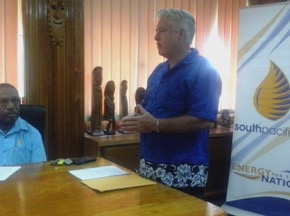 As one of the largest contributors towards government coffers in terms of tax, the total taxes SPO paid to SIG in 2015 were as follows:
    

Income tax paid amounted to SBD 33.4 million;

    Goods tax paid in 2015 amounted to SBD 65.2 million;

    Sales tax paid in 2015 amounted to SBD 6.8 million;

    Import duties on fuel and lubricants amounted to SBD 18 million;

    Withholding taxes amounted to SBD 2 million; and

    PAYE taxes amounted to $3.3 million.
Overall, the total direct and indirect taxes paid to SIG in 2015 stretched to around SBD 128.7 Million.
Under the Public/Private Partnership Program, a team also visit major distributors in the Provincial centres to raise awareness of dangers of handling fuel, assisting dealers to ensure that they run a profitable business. 
"This is a result of corporate efforts put in by the management and staff in cutting costs in various areas that they were responsible for resulted in major cost savings. I'd like to take this moment to acknowledge all my staff, whether in the management team, working in the offices or those working out in the yard have resulted in the dividend that is paid to our shareholder." Said the General Manager of SPO Mr. Carson Korowa 
Furthermore, "I also want to acknowledge the Board of Directors under your chairmanship, for having the confidence and trust in the management of the Company. The management recognized that trust, and we've put in the efforts to ensure that we do not betray that trust you had in us. We've done our best to ensure that we meet the aspirations of the Board and the shareholders." Said the Mr. Korowa.
Speaking during the brief handover ceremony is the current chairman of the board of directors of SINPF, Mr. Peter Boyers.
"It gives me great pleasure and honor to represent the SINPF, as shareholders to this occasion to accept dividend payment by South Pacific Oil to its shareholder, SINPF. Said Mr. Boyers. He further stated that:
"SPO has adopted a policy of "We Care" when it comes to corporate sponsorships. This is where community initiatives become paramount to SPO. This policy is implemented in two ways:
Corporate sponsorship is targeted towards the marginalised in the community. This included support to organisations like San Isidro, the Red Cross and the Care Centre at Tenaru.



Wherever possible SPO works in Public/Private Partnership arrangements when it comes to retailing of petroleum products in Honiara as well as the provinces. This includes supporting the retailers in Honiara, like the Point Cruz Service Station as well as Didao Service Station."   

 
"I would like to congratulate the SPO staff and management and the Board of Directors for such a good return. I was the Chairman of the SPO Board when this profit was made, so that gives me extra pleasure."